EQUIPMENT
A fairly long wig (= wig) (a dread reduces the length by about 1/4).
A foam head (also purchased from Arda Wigs),
A fine comb (the teeth must be tightened),
Clips and elastic to hold the hair,
A straightening iron,
A bowl of water,
A small cloth,
His feet…
And eventually :
An extension: for me, a "Long Weft" in Dark Brown (076),
Sewing thread,
A needle,
Pins.
1 ST STEP: PREPARATION
We start by delimiting the locations of the dreads by making braids. To do this, I fix the wig on my foam head using pins. I start with the circumference of the face because this is where the dreads will be most visible.
NB: By forming braids, we also prevent the wig from getting tangled when handling it.
2 ND STEP: FORM A DREAD
I wedge the wig on my foot, and I start with the dreads from below (the least visible).
I undo the braid, then I crepe it with a comb. I wrap it slightly, then re-pancake and so on, until I get a very tangled and fairly compact wick.
3 RD STEP: "BLOCK" THE DREAD
Once the dread is formed and well attached between my two feet, I soak and wring a cloth in a bowl of water, then I place it around my dread (starting at the root).
I pass my straightening iron over it to fix the dread, I move my cloth, iron my straightening iron, I re-move the cloth and so on to the tip. Obviously, as soon as the cloth is dry, I dip it again…
Several passes may be necessary for the dread to be blocked.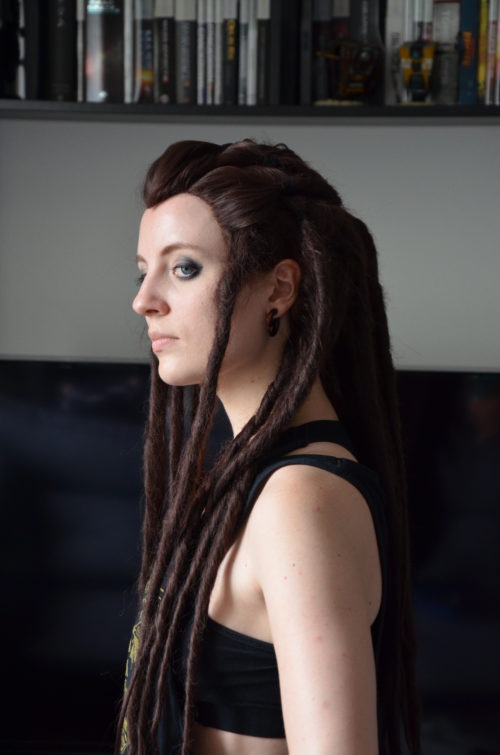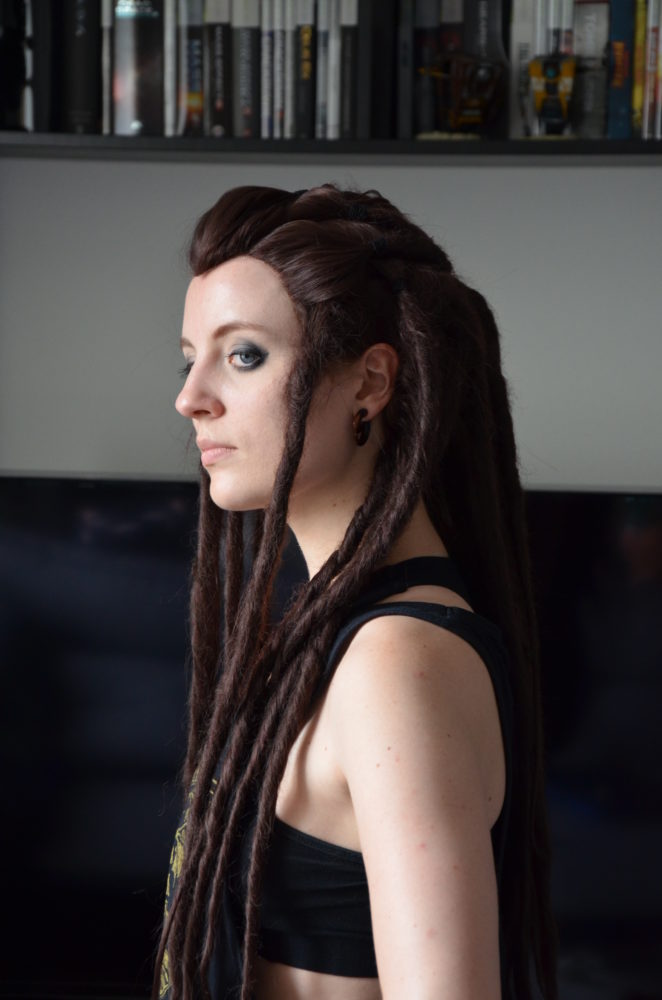 4 TH STEP: PLUG THE "HOLES"
After having gathered all the hair to form the dreads, it is possible that holes appear at the base of the wig (personally I have one on each side).
We will use extensions to remedy this problem.
Prepare the extensions: the extension comes in the form of a "garland" of hair. I cut 2 pieces so that I can form 2 dreads.
I form the 2 dreads by repeating steps 2 and 3.
I lift the hair with pliers to clear the holes.
I sew the dread on the base of the wig with a needle and a brown thread.
5 TH STEP: DETAILS
1. Rings
I chose to make my rings myself by forming Worbla tubes around a pen (thinner than the dread but not too much to be able to put it on).
We decorate (borders, reliefs, etc.), then we paint.
2. Color wire
For my part, I chose embroidery thread (a little thick) of various red / orange shades.
3. Apply
The rings are threaded to the desired height.
FINAL RESULT :
Tadaaaaaa!